May 27, 2012
Presh Talwalkar, fellow blogger and founder of the game theory/personal finance website Mind Your Decisions, has recently released an e-book composed of 70 math puzzles previously featured on his blog.  He was kind enough to send a review copy my way, so if you enjoy a good math puzzle, read on!
The book is organized into three sections, divided by general subject.  There are twenty five counting/geometry puzzles, twenty five probability puzzles, and twenty strategy/game theory puzzles.  Some of the puzzles are inspired by discussions Presh has had with his readers over the years, though many are not unique to this book and some are moderately well known.  In fact, the intersection of the puzzles in the book with things I have talked about here is nonempty - some examples of overlap can be found here and here.
William Poundstone's book on the history of Microsoft and the puzzle-based job interview, How Would You Move Mt. Fuji?, is probably the most commonly cited text in Presh's collection...
May 18, 2012
Over at CNN this month, I talk about the phenomenal success of Marvel's The Avengers in its stampede over old box office records.  But how much stock should we put in these records?  Is this blockbuster really the top dog in the record books?  Here's a sneak preview of the article:
When the Avengers assemble, the world opens its collective wallet.  In just under three weeks since its international opening, "Marvel's The Avengers" has earned more than $1 billion worldwide.  In America, it blew through the $200 million mark over opening weekend alone, and now holds the title of best three-day opening in film history.  Or does it? While dollar signs fuel the engine of Hollywood movie production, they are not necessarily the most objective measure of a film's success.  Most importantly, the dollar is not a static unit of measurement like the meter; as a result of inflation, a dollar in 2008 has more purchasing power than a dollar in 2012.  If we search for a better way to measure film's...
May 9, 2012
In an earlier post, I closed by hinting at the mathematics of ranking.  In this modern era, the topic is particularly relevant: the ranking algorithms are hard at work whenever you type something into a search engine, rate a movie on Netflix, or look at a product on Amazon.  It's also a popular area of study among sports enthusiasts, for whom accurate rankings of the relative strengths of teams can make all the difference in a fantasy league or a betting pool.
Because of all of these accessible applications, it should come as no surprise that the mathematics of ranking is the subject of a new book, titled Who's #1? The Science of Rating and Ranking.  Written by applied mathematicians Amy N. Langville and Carl D. Meyer, the book tackles a variety of methods used to extract ratings or rankings given some collection of input data.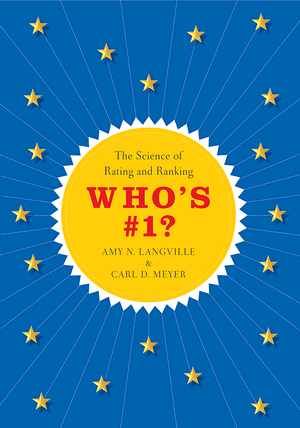 This book is chock full of information.  The first part of the book discusses several different algorithms used to construct rankings.  There are plenty of...
May 2, 2012
Hi everyone,
If you follow me on Twitter, you may have noticed some activity over the past week in regards to a new Kickstarter project, Math52.  From the creators of Mathalicious, this campaign has set the ambitious goal of raising $164,000 to help transform the way mathematics is taught in our schools.  Every week for a year, they will release a video aimed at exploring mathematics through everyday questions - the types of questions that will immediately connect with students, and help motivate them to understand the math required to provide a reasonable answer.  But don't believe me, check out this video!
The team has raised over $12,000 in a week.  This is amazing, but it's not quite on track for them to reach their goal.  So if you give a hoot, please consider donating to this most worthy of causes.  Even better, if you have some wealthy friends, get them to donate too (friends of Bill Gates, I am speaking to you!).
If you can't spare the change, then please consider spreading...
May 1, 2012
This Saturday, folks from all over the country will be tuning in to the 138th Kentucky Derby.  In fact, this year the Kentucky Derby falls on the same day as Cinco de Mayo; undoubtedly the result of this intersection will be a plethora of parties celebrating the melting pot that is America (tacos and mint juleps make for a wonderful combination, I'm sure).
Whenever racing comes up, mathematics can't be far behind.  Gambling is always a popular topic: how are the odds for the different racers determined, for example?  But this is a question I will save for another time.  Today, inspired by horse racing in particular, I'd like to discuss the following classic logic puzzle.
Suppose you have 25 horses and a 5 lane race track.  You have no way to record the finishing times of the horses, but you can race up to 5 horses on the track at once and see how quickly the horses finish relative to one another.  What's the minimum number of races needed to find the three fastest horses?
If you had...
April 20, 2012
In honor of this year's Mathematics Awareness Month, titled "Mathematics, Statistics, and the Data Deluge,"  I've contributed an article to CNN's Light Years blog on how corporations might use big data to infer personal details about its customers.  Mostly this was inspired by the recent New York Times investigation on how Target collects and uses customer data.  Here's an excerpt:
Whether you are trying to make the best decisions for your fantasy baseball league, looking to capitalize on an opportunity in a fluctuating stock market or simply filtering through the results of a Google search, it is hard to deny that we are surrounded by more data now than ever before.  As such, the task of organizing and drawing conclusions from data can be a challenge, but thankfully mathematics can, in many cases, rise to the occasion.
Want to read more?  Click here to go to the story!
April 5, 2012
My love of NBC comedies has, by now, been well established.  Today I'd like to return to The Office, for although Steve Carrell's absence may have hurt the ratings, it certainly has not diminished the potential for the show to inspire some mathematical thinking.
If you have not been watching recently, this season marked the debut of the company's first ever tablet computer, dubbed the Pyramid.  The Pyramid made its first appearance early in the season (and was also featured in on Wired), and has since been joined by a smartphone counterpart known as the Arrowhead.  Here's an image of Dwight touting the new tablet.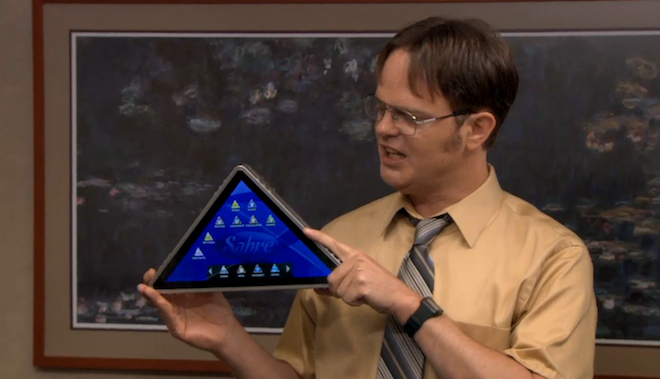 On the face of it, the tablet is ridiculous (this fact is eventually sort of addressed later on in the season).  Who wants to use a triangular shaped tablet to look at pictures or watch movies?  The reason I bring this up is that from a strictly mathematical standpoint, there are reasons to view the design with quite a bit of skepticism.
Why is this the case?  Well, let...
March 30, 2012
As we head into the final days of March, I'd like to share with you the following infographic sent to me by a reader.  It collects some interesting (and depressing) data on women in STEM (Science, Technology, Engineering, and Mathematics) careers.

Created by: Engineering Degree
While I don't necessarily put a lot of stock into the opening IQ numbers (see here and here for examples of problems with IQ testing), and I'm not sure if the data on course load in the first part is statistically significant, the data in the latter parts is quite compelling.  I've discussed the psychological component of the gender gap before, but the data in the second section of this infographic provides more evidence to the claim that psychology and cultural influences, rather than biology, is behind the gender gap we see in the sciences.
Of course, anytime someone with the aptitude is dissuaded from pursuing a technical career, it is unfortunate.  When a large number of people with the aptitude don't pursue...
March 22, 2012
Though we are still a few months away from the start of the summer blockbuster season, the scuttlebutt is that The Hunger Games, opening this weekend, is expected to do huge business (and by huge, I mean upwards of $100 million).  Based on the 2008 Suzanne Collins book of the same name, this property is the hottest new thing in the realm of young adult fiction, and in this post-Harry Potter, nearly-post-Twilight era of cinema history, the timing could not be better for movie executives.  The book is the first of a trilogy, so whether you like it or not, these films will be with us for the next few years.

Cover image for the book.
If you have not read the book, or have no idea what I'm talking about in general, a trailer for the film can be found here (sorry, embedding has been disabled for the video).  The story takes place sometime in the future, many years after a war that has seemingly decimated the population.  The United States is now broken into twelve districts, all under control...
March 16, 2012
Hi Everyone,
In an attempt to spread the joy and cheer of mathematics to a broader audience, starting this month, I will occasionally be writing articles for CNN's new science and technology blog, Light Years.  Fear not, most of my content will still be appearing at Math Goes Pop, and every time one of my guest posts goes live, I will let you know about it here as well.  Today the topic is voting systems, something I have discussed on this blog before.  Here's a piece of the intro to pique your interest:
When the results of an election (primary or otherwise) run counter to our desires, it is easy to scapegoat the political process.  The right person didn't win, we may argue, because the system itself is broken.  The two-party system, for example, is sometimes cited as a leading cause of the current dysfunction in Washington.  But perhaps much of what ails the political climate comes from an underlying mathematical dilemma in the way we determine the winners of our elections.  The mathematics...
Page 3 of 20