August 17, 2011
When my fiancee was in the midst of the wedding planning, part of her research (or perhaps it was simply a guilty pleasure) involved watching wedding shows on basic cable.  For those of you who have not had the pleasure, between stations like WE tv and TLC, there are no fewer than nine different wedding-themed reality shows airing weekly.  Many of them are appealing in a rubbernecking sort of way; much like a car crash, the spectacle is too ridiculous to turn away from (I'm looking at you, My Big Fat Gypsy Wedding).
Of all of these shows, though, the one that most piques my mathematical interest is TLC's Four Weddings.  Based on a British show with the same name, the premise is as follows: four brides-to-be, unknown to one another, meet and attend each others' weddings.  When one bride gets married, the other three score various aspects of the wedding, and the bride with the highest score among the four wins a honeymoon (contingencies are in place in the event of a tie, though these...
August 5, 2011
Hi everyone.  Apologies for flying under the radar lately.  I am getting married soon, and along with life's usual habit of getting in the way, preparations are surprisingly time consuming.
Having said that, I have a couple of articles in the pipeline specifically addressing the intersection of mathematics and weddings (the intersection is non-empty, I assure you).  In the meantime, if you're looking for a mathematical fix, you need look no further than this link, which gives an explicit function whose graph bears a striking resemblance to the Batman logo.  Mathematicians who need to contact crime fighters need no longer live in fear.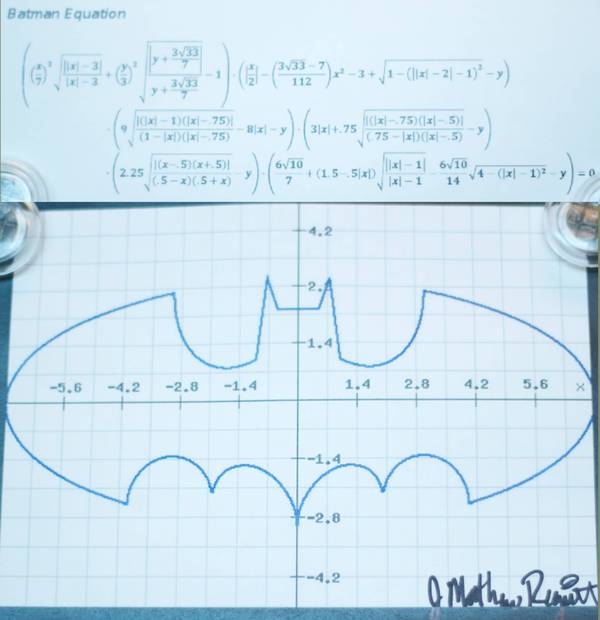 Na-na-na-na Na-na-na-na MATH GRAPHS!!!!
Want to see your favorite superhero's logo memorialized in the Cartesian coordinate plane?  Give it a shot!
I'll be back soon with some more substantial content.  Hat tip to Nate for the link to this crime-reducing function.
July 20, 2011
Sorry I'm so late to the party on this one, but I wanted to draw your attention to this NPR article from a couple of months back.  It profiles the "Songwriter in Residence" program at the University of Tennessee's National Institute for Mathematical and Biological Synthesis (or NIMBioS if you feel like spitting a bunch of letters out of your mouth).  The experimental program hires songwriters for one month stints at the Institute, during which time they work with researchers to develop two songs on current scientific/mathematical research.  Here's one of the resident's performing a song on sexual selection:
While combining the arts with the sciences is nothing new, it's cool to see a program embrace the intersection of these disciplines with such gusto.  Of course, it can be difficult to squeeze educational content out of a song with a science focus, but if School House Rock has taught me anything, it is that education and fly jams need not be mutually exclusive.  If you feel, however...
July 15, 2011
Hi all.  As a small gift for you going into this weekend, here's a link to an article from The Numbers Guy at the Wall Street Journal.  I was one of several people interviewed for my thoughts on the preponderance of math holidays that have been in the news recently.  If you've been reading this blog for a while, you will already know my general feelings towards these holidays.  More details, though, can be found here or here.  If you're curious, you can probably find other articles in which I jump on the soapbox.
I'll be back next week with something more substantive.  In the meantime, enjoy your weekend, and if you're in Los Angeles, Happy Carmageddon!
July 8, 2011
This week marks the third anniversary of Math Goes Pop!  As such, I thought it might be appropriate to engage in a bit of navel-gazing.  But since I can gaze at my own navel whenever I please, I'd like to flip the script, as it were, and turn my attention towards the collective navels of my readership.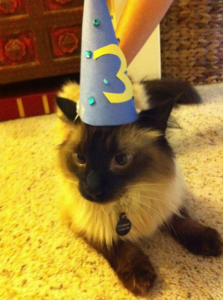 Our cat's third birthday is also this week. It is unclear which event he is celebrating, although the dilated pupils suggest he is celebrating a bit too hard.
I'd like to share with you some data on the geographic distribution of my US readers.  While there is a large California bias, people from all over the country seem to have stumbled upon this corner of the internet, and have hopefully enjoyed their time here.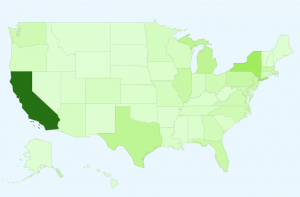 This represents you, gentle reader. Darker green means more viewers.
Of course, a California bias shouldn't be all that surprising.  After all, California is the most populous state in the country, accounting for roughly 12% of the country's total population, according...
July 1, 2011
Looking for a way to procrastinate before the three day weekend?  Then feel free to check out this interview I gave to the Journal of Media Literacy Education.  I gave the interview some time ago, but just happened to stumble upon it in published form this week.  If you want some behind-the-scenes perspective into how this blog started, and my general philosophy behind writing it, this interview is a good place to start.
Hope the long weekend treats you well!
June 28, 2011
Last year marked the dawn of a new era in mathematical holidays.  Spearheaded by Dr. Michael Hartl, Tau Day (celebrated today, June 28th) is an attempt to draw awareness to what he sees as a fundamental error in the definition of the beloved circle constant $latex \pi$.  In particular, he (and others) argue that the more natural choice of the circle constant should be $latex 2\pi$, which he affectionately dubs $latex \tau$.  I outlined the reasons for this in a post last year, though if you have the time, I highly encourage you to read Hartl's Tau Manifesto.
This year, I thought it would be nice to talk with Dr. Hartl in more detail about his inspirations for Tau Day, and where he envisions it in the future.  He was gracious enough to agree to a brief interview, which I humbly submit to you here.
*
Q: When did you first discover that $latex \pi$ was "wrong"?  Did you have an intuition that something was amiss before reading Bob Palais's 2001 article in The Mathematical Intelligencer
June 9, 2011
For many of us, summer is thought of as the time between Memorial Day and Labor Day. For folks of a younger generation, though, trendier bookends are provided by two MTV Award shows: The Movie Awards at the beginning of the summer, and the Video Music Awards at the end. Continuing this noble tradition, the 20th iteration of the MTV Movie Awards was broadcast this weekend. If you missed it, don't worry; I'm sure it will be shown another 300,000 or so times before the summer is out.
As a shining beacon of what is hip, MTV has a responsibility during its movie awards to highlight the most popular films of the year. This is in stark contrast to the priorities of higher brow award shows such as the Oscars, for which artistic achievement is placed on the highest pedestal. This is not to say that these two goals need be mutually exclusive; indeed, since the first MTV Movie Awards was broadcast in 1992, the "Best Film" has agreed with the Academy Award winning best film three times (1997...
May 26, 2011
A couple of weeks ago I noticed this article on the Yahoo Sports page, which highlighted a statistically rare event that occurred in the American League on Sunday, May 8th.  On that day, 7 baseball games were played on the AL schedule, and in all of those games one team scored exactly 5 runs.  The post then links to this article from the AP, which gives this rare event the following context:
It was the first time in 18 years that such a quirky thing happened with a full schedule. On Aug. 10, 1993, all seven NL games featured one team scoring precisely two runs, STATS LLC said.

The last time it occurred with five or more runs was July 20, 1955, when all four AL games had at least one team score exactly six, STATS LLC said.
When I read this article, some questions immediately came to mind: exactly how rare is it for one team in a collection of 7 baseball games to have a common score of 5?  Also, if 7 teams in 7 games have the same score, which score are they most likely to share?  Are...
May 10, 2011
Continuing last week's trend of discussing mathematics in the context of NBC comedy, today I'd like to move from The Office to Parks and Recreation.  More specifically, I'd like to discuss local government wunderkind/aspiring club owner Tom Haverford, whose unique charm I cherish almost as much as Ron Swanson's mustache.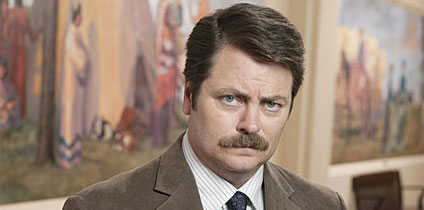 What a stud.
In a recent episode, Tom Haverford waxed poetic on the slang he has invented to describe different types of food.  A clip is currently on YouTube (though I don't know how long it will stay).
Here's a list of the slang Tom uses:
desserts = 'serts,
entrees = tre-tre's,
sandwiches = sammies, sandoozles, or adamsandlers,
cakes = big ole' cookies,
noodles = long-ass rice,
fried chicken = fry-fry chicky-chick,
chicken parm = chicky-chicky parm-parm,
chicken cacciatore = chicky catch,
eggs = pre-birds or future birds,
root beer = super water,
tortillas = bean blankies.
Some folks had the brilliant idea to build on this new parlance by creating a website devoted...
Page 6 of 20